This website is under development, please read about the film below and check back for updates.
Filmmaker Carolyn Jones spent four years interviewing and photographing nurses for the groundbreaking American Nurse book and film, and another year of research and interviews focused on what Dying in America looks like, all of which has led her to making this new film, the culmination of a journey, simply called Hope.
Our desire to live longer, coupled with the remarkable technologies that were not available until recently, has created a radical change in how we make medical decisions. Our HOPE to cure, to save, to live longer often makes it impossible to walk away from the technologies available to us and our loved ones. 
HOPE is a feature-length documentary that tells the story of patients as they move between ICUs, operating rooms, hospice care and home. It follows these patients as they face death, embrace hope, decide what technologies to use and ultimately redefine what makes life worth living.
The film is currently in production. Please stay tuned for updates about its completion and launch. Our film is a non-profit project, fiscally sponsored by the New York Foundation for the Arts, and generously supported by the Jonas Center for Nursing and Veterans Healthcare, the American Nurses Foundation, and the generosity of individuals that believe in our mission.
To support the making of the documentary film, please consider making a tax-deductible donation.

DONATE
OUR TEAM
Carolyn Jones, Director:
An award-winning photographer and filmmaker who specializes in telling stories that shed light on issues of global concern, her first book, Living Proof: Courage in the Face of AIDS, was published by Abbeville Press and accompanied by shows in Tokyo, Berlin, the USA, and at the United Nations World AIDS Conference. She founded the non-profit 100 People Foundation which creates educational films and curricula and has students participating in thousands of schools in over 90 countries worldwide. In 2012, five years after her own health battle with breast cancer, she began her photojournalistic journey into the world of healthcare. She interviewed and photographed nurses from all over the country for the book and documentary film The American Nurse, for which she spent 10 days in Russia as a cultural envoy with the U.S. Department of State's American Film Showcase. Her latest project, Hope, was inspired by the wisdom of the nurses she met. The film, currently in production, follows patients confronting life-threatening illnesses and chronicles the choices they make.
Lisa Frank, Producer:
As an independent producer and as Director of Programs and Production for the 100 People Foundation, Lisa oversees the planning, execution and delivery of groundbreaking creative projects, from documentary films to corporate video content to award-winning short documentaries on global issues for students worldwide. She has spent the last four years in collaboration with Jones to produce the book, film and website that comprise The American Nurse Project. She is currently producing the follow-up to that project, a feature documentary called Hope. She holds a B.S. in Speech from Northwestern University
Candace Thompson, Editor and Web Designer
Candace Thompson is a Brooklyn-based freelance editor and independent performance & video artist. Candace dedicates her work on Hope to the memory of her friend and fellow artist Crystal Ruth Bell, who lost a 2 year battle with Stage 4 Malignant Melanoma in August 2014 at the age of 28.
Jaka Vinšek: Videographer
Jaka Vinšek is a Slovenian-born, New York City–based photographer and filmmaker, whose first feature film Here and There won Slovenia's "Golden Roll" award for the country's most popular film, and was shown in film festivals throughout Europe. Jaka served for three years as the in-house photographer for the President of Slovenia, and his work has been displayed at the Slovenian Embassy in Washington, D.C. His work has been published by Reuters, the Associated Press, Oprah Magazine, Vogue Nippon, and many others.
Barbara Glickstein, Nursing Consultant and Advisor
Barbara Glickstein is a public health nurse, health reporter and media strategist. She is co-director of the Center for Health Media & Policy at Hunter College, City University of New York. She produces and hosts Healthstyles an award-winning, weekly program on public radio in New York City. She views her radio program as a public health practice, providing ongoing coverage of issues that make a difference in our everyday lives. She is committed to putting a human face on important social issues.
Research
Hope the film is born out of four years of research and the immeasurable wisdom of the nurses and healthcare professionals that we interviewed for both The American Nurse Project and the Dying in America website. After conducting more than 150 interviews, we learned how critical it is to consider what's most important in life, to think about our own personal definitions of "quality of life," and to make time to discuss our values and wishes with our loved ones. It is our greatest hope that this film will help lead and catalyze a national dialogue that translate our interviewees' recommendations into public action.
To watch some of the video interviews with the nurses, please visit our project websites for American Nurse Project and Dying in America .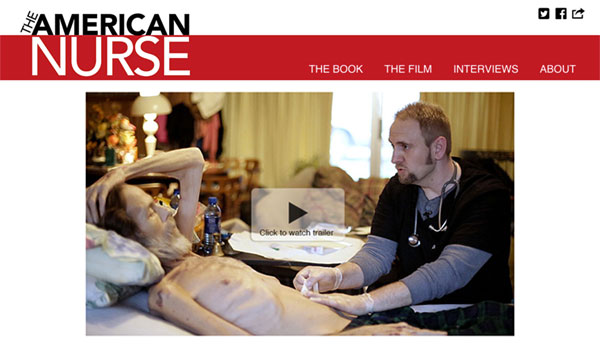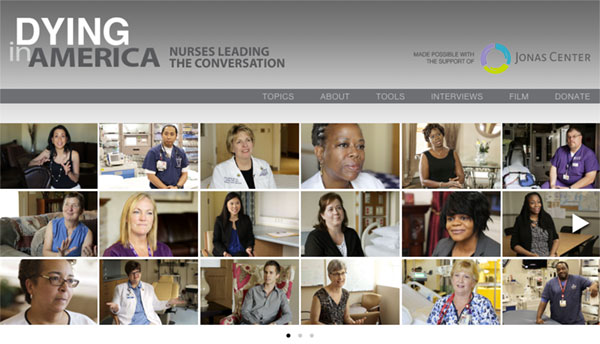 Contact Us
For more information, please contact:
Lisa Frank, Producer
lisa@carolynjones.com
(212) 252-8402